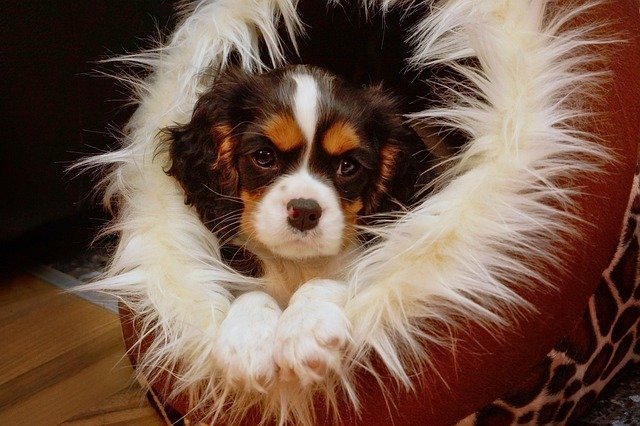 The Cavalier King Charles Spaniel is a quintessentially gentle and loving dog. For centuries the Cavalier has been bred to be the ultimate companion. When a Cavalier sits on your lap, or follows you adoringly, they are living proof of their heritage. Their very essence is that of a happy, devoted toy spaniel -- tail wagging, and eagar to please.
Before you purchase a Cavalier you need to be sure that you can provide this new member of the family with the loving and intelligent care they will need for the rest of their life. Although Cavaliers are enthusiastic when it comes to taking a walk or playing outdoors, they should always live with you in your home, and not outside. If you aren't home much, then a Cavalier is probably not for you.

Cavaliers are very social dogs and will not be happy spending long hours alone. The most important place to start when purchasing a Cavalier is with a reputable breeder.
Adding a Cavalier to your family will be a wonderful and delightful experience. You will find that these little dogs steal your heart in a big way. The Cavalier personality is loving, friendly, happy, gentle and even comical. These special companion dogs will bring joy and friendship to your life for years to come.
The American Cavalier King Charles Spaniel Club is dedicated to protecting the welfare of Cavaliers in the United States, and is always available as a resource to Cavalier owners.
Excerpted from: The Cavalier King Charles Spaniel, A Puppy Buyer's Guide. Published by the American Cavalier King Charles Spaniel Club, 2005.
© Copyright Twin Cities Cavalier King Charles Spaniel Club